Fluorescent Tubes to LED
There are billions of traditional fluorescent tubes in North America. They come in different lengths, have different amount of lamps and fit in different types of applications but they are generally all about the same. Traditional fluorescent lighting fixtures include a ballast which transforms electricity.
Many people want to replace their fluorescent technology with LED and there are two options for this:
1. LED Tube with an integrated driver running on line voltage (meaning that electricity runs directly from the socket)
Advantage – no future costs except for LED tubes replacement
Disadvantage – electrical services are required to remove the old ballast
2. LED Tube with an integrated driver on a fluorescent ballast (many people like this option because you have zero electrical costs up front as the LED tube will run on the old fluorescent ballast
Advantage – system can be used as it is
Disadvantage – will require changing the ballast and the light bulb in the future
Get up to 50% incentive rebate! Convert your fluorescent lighting system to LED and save up to 85% energy use.
Incentive programs have been developed by governmental agencies to encourage upgrades which reduce energy consumption. These measures help businesses to enjoy better overall performance from the lighting system with less energy use from our taxed power grid. In order to qualify for the incentives most agencies in Ontario require the work to be done by licensed electricians. All incentive applications must be submitted and approved before the projects begin. Along with compiling the information required by the Ontario Power Authority, Lighting Solutions can administer the application process on your behalf to ensure you receive your applicable incentive without project delays. Your involvement will be minimal so you'll be able to focus your attention to your business.
Let us handle all the paperwork and get you the maximum incentive! Call one of our fluorescent tubes conversion specialists at (416) 493-7630 to find out if you qualify for lighting upgrade incentives!
Fluorescent Tubes LED Conversion Services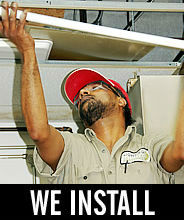 We have the equipment and experience to help you handle all your fluorescent tubes LED conversion needs.
Lighting Solutions is a registered electrical contractor with ContractorCheck, at the Electrical Safety Authority and the Workplace Safety and Insurance Board. Our insured and licensed staff can perform upgrades to your existing fluorescent lighting system as well as complete installations. We offer turnkey LED conversion services, including suggestions for energy efficiency improvement and savings, as well as supply and installation of LED tubes.
We offer fluorescent tube conversion services for: